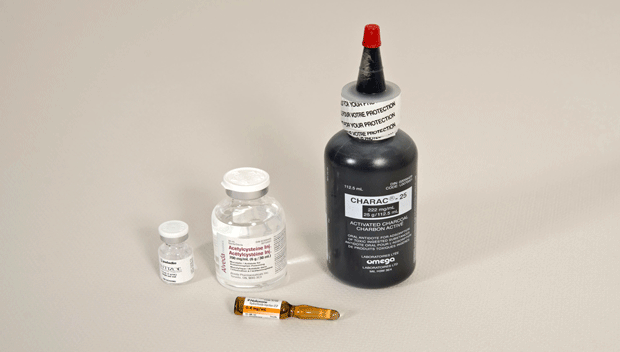 Attached below is a guideline for the stocking of recommended antidotes in acute care settings. It should be noted that this does not replace the usual symptomatic and supportive care necessary for the treatment of a poisoned patient.
This initial dose listed is the amount typically required to treat an average 100 kg patient in the first eight hours. The guidelines indicate when stock should be available for immediate use and which can be available within 60 minutes. The Ontario Poison Centre cannot make specific stocking recommendations as it is difficult to predict an individual hospital's needs, especially in the event of a large environmental poisoning.
The list is compiled from the literature referenced below. It should be noted that as medical toxicology knowledge changes, antidotes may change. It should also be noted that more than one antidote may be listed for a particular intoxication.
Please contact the Ontario Poison Centre about all poison exposure patients to ensure they receive the most current evidence-based care available.

Guidelines for Stocking Emergency Antidotes
References:

BC Drug & Poison Information Centre. Antidote stocking guidelines for B.C. hospitals: Updated June 2018
http://www.dpic.org/sites/default/files/AntidoteStockingGuidelines_Updated_June2018.pdf
Canadian Antidote Guide in Acute Care Toxicology. Canadian Association of Poison Centres.
https://www.ciusss-capitalenationale.gouv.qc.ca/antidotes?lang=en
Dart RC, Goldfrank LR, Erstad BL, Huang DT, Todd KH, Weitz J, Bebarta VS, Caravati EM, Henretig FM, Delbridge TR, Banner W, Schneider SM, Anderson VE. Expert Consensus Guidelines for Stocking of Antidotes in Hospitals That Provide Emergency Care. Ann Emerg Med. 2018 Mar;71(3):314-325.e1. doi: 10.1016/j.annemergmed.2017.05.021. Epub 2017 Jun 29. PMID: 28669553.
Murphy NG, Bona DR, Hurley TA. A system-wide solution to antidote stocking in emergency departments: the Nova Scotia antidote program. CJEM. 2019 Jan;21(1):37-46. doi: 10.1017/cem.2017.400. Epub 2017 Sep 20. PMID: 28927481.
Home
/
Health-Care Professionals /
Antidotes