Winter and Holiday Season Hazards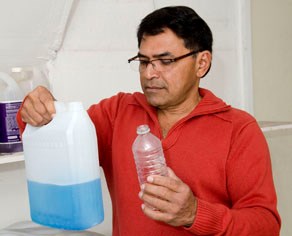 As seasons change, so do the types of poisons that are commonly found in and around the home. Many of us look forward to the holiday season. The snow is falling, relatives and friends are visiting and gifts are being exchanged. The holiday season can be hectic, making it easy to lose sight of your child. Whether you are talking to a loved one on the phone or visiting with friends, it only takes seconds for a child to get their hands on something dangerous.
How to Prevent Winter and Holiday Poisonings
Store antifreeze and windshield washer fluid in the trunk of your car.
Keep ice-melting products locked and out of reach of your child.
When family comes to visit, make sure they have a safe place to store their medicines. Lock them in a cupboard or locked box.
Toys meant for older children may have small parts that a young child could choke on. Keep these toys away from young children.
Holiday Plants
The poinsettia plant is one of the most common plants used to decorate homes over the holidays. It has a bad reputation for being highly toxic but is really more of a choking hazard in humans.

Holly and mistletoe berries can cause toxic symptoms that may require medical attention if eaten. It is best to keep those plants out of reach of young children.
Holiday Hazards

During the holiday season, many families decorate their homes. Some of these decorations may pose harm to your children. Here are some tips to keep in mind over the holiday season:
Supervise young children at all times. The holiday season is a common time for childhood poisonings to happen because the normal daily routine is disrupted.
Keep toys meant for older children away from young ones as they can choke on the small parts easily.
Snow sprays make pretty window decorations and are not poisonous once dry. For some people, however, these sprays may cause irritation to the airway.
Bubbling Christmas tree lights may contain poisonous chemicals.
Old, heirloom ornaments may contain lead paint. Keep them away from young children.
Some gifts found under the tree, including perfume and drinking alcohol may be very dangerous if young children drink them.
Home
/
Common Poisons /
Seasonal Dangers /
Winter and Holiday Season Hazards